I am so bored of my hair colour. It's that boring, typical blonde hair that couldn't get a gnat excited. I want to dye it, but I don't. I've had hair every colour from white blonde, to black brown and I don't think either suit me particularly well Grey Hair Trends 2015.
I guess I want something that's not your usual hair colour, but I don't want bright coloured hair. Basically, I don't know what I want. Except now, I kinda do. I want grey hair. Not the naturally occurring grey obviously, but the lilac and blue toned greys that have been sported by a few celebs recently. I loved the lilac trend but I didn't think it would suit me, but I just think I could pull off grey hair. Probably not really, but my ego must be having a good day.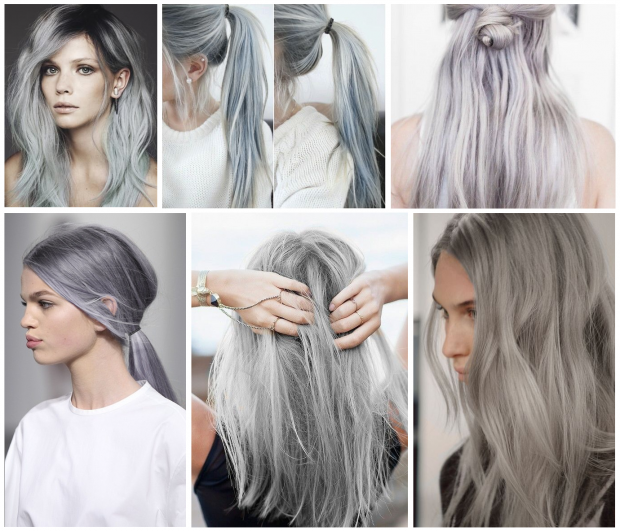 I don't know what it is about grey hair but I just think it's gorgeous! Unusual, but not too out there. Perfect for a little pansy like myself. I'm not saying I'll definitely get it (and the ditherer away goes to me…) but I'm definitely considering it.
This silvery gray with a hint of blue has the understated beauty of an overcast sky. The tone is fashion forward but subdued. It goes with everything, like a great pair of jeans. And, unlike some fashion shades, it fades out gracefully to shades of smoke and platinum.
Application: For cool fashion tones, timing is everything, especially if you're using the color over pre-lightened hair. Always lighten with a gently formula like Goldwell Silk Lift, to keep the cuticle in tact. Before toning, shampoo and condition to rebalance porosity. If hair's structure is compromised, waiting 48 hours to tone, for a more predictable result. Apply the formula quickly and watch carefully, checking the level of deposit every few minutes until desired tone is achieved.